Clodagh's Pak Choi & Salmon Miso Ramen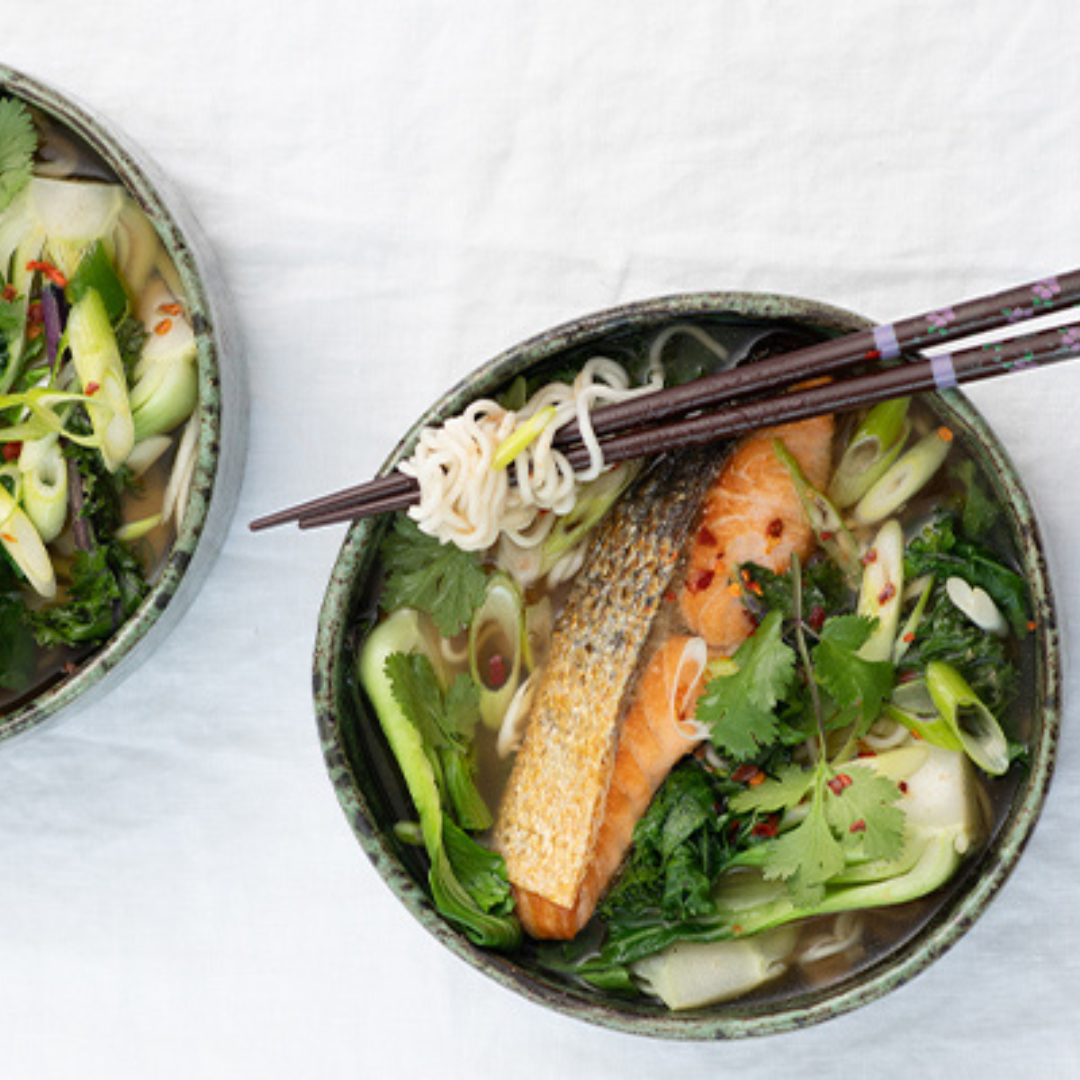 Chef and TV presenter Clodagh McKenna is the author of 8 cookbooks, including most recently In Minutes and Clodagh's Weeknight Kitchen. Her latest book In Minutes is a Number 1 best-seller in both the UK and Ireland. 
She is a much-loved resident chef on ITV's This Morning and one of the chefs on ITV's Cooking with the Stars.
This fantastic Asian-inspired dish features in Clodagh's amazing new Recipe Book – In Minutes – a brand-new title inspired by how much time you have in your busy life. The book is perfect for parents with limited time and is packed with flavourful, speedy recipes that you can cook from start to finish in 10, 20 or 30 minutes.
This dish has appeared on this morning and is perfect for a for a healthy mid-week supper.  
Ingredients:
Olive oil  
1 filet of salmon 
1 tsp honey
1 tsp sesame seeds
1 miso ramen pack noodles 
2 pak choi, quartered length-ways 
¼ tsp dried chilli flakes 
3 slices of fresh ginger 
3 sprigs of fresh coriander 
Sea salt and freshly ground black pepper
Serves one
Method:
Preheat the oven to 180oC (fan)/gas 4
Place a frying pan over a medium heat, and add 1 tbsp of olive oil. Brush the skin on each salmon filet with runny honey and a sprinkle of sesame seeds. Place the salmon on the pan, flesh side down and season with sea salt and freshly ground black pepper. Turn the fish after one minute, cook for another minute and then transfer to the pre-heated oven for 8 minutes. 
If using a ready-made miso ramen pack of noodles, like I do, then place the noodles, chilli flakes, sliced ginger and ramen mix in a saucepan and then pour 300ml boiling water on top. 
Alternatively, instead of using the ramen pack, you can whisk 1 tsp of miso paste into the boiling water with one serving of ramen noodles. Place over a medium heat and stir. 
Now add the pak choi and stir, then allow to cook for 3 minutes. After 3 minutes pour all the ingredients of the saucepan into a warmed bowl and place the cooked salmon on top. 
Sprinkle the fresh coriander leaves on top and that's it, enjoy!
Other vegetables you can use: Spinach, scallions (spring onions, shredded cabbage, peas, baby kale, purple sprouting broccoli, sliced mushrooms 
Substitute for salmon: Shredded leftover roast pork, chicken or lamb. Tofu, prawns, soft boiled egg, or meaty fish such as hake or cod.  
To find out more about Clodagh McKenna and her new book In Minutes, visit: https://www.clodaghmckenna.com/shop-all/in-minutes-signed-copy or follow Clodagh on Instagram: https://www.instagram.com/clodagh_mckenna/