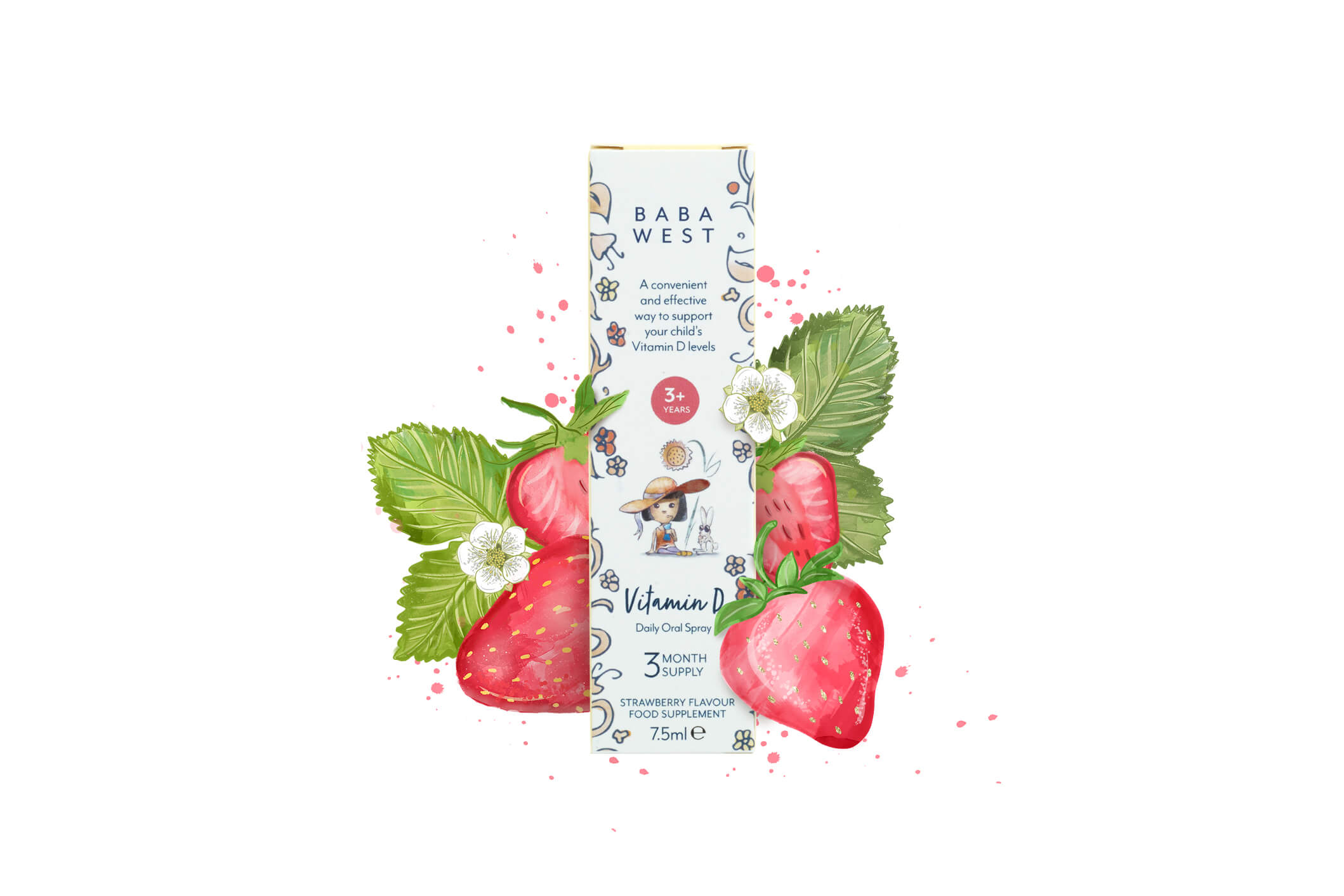 Why is vitamin D important for your child's health and development?
Low levels of vitamin D are widespread and this is recognised as a significant health problem due to the importance of vitamin D for many aspects of health (1).  Best known is the role of vitamin D in helping the body to absorb calcium and build strong, healthy bones and teeth. Insufficient vitamin D in childhood can lead to poor bone strength and in an increasing number of cases, rickets, where the bones become misshapen and the legs may bow. Vitamin D is also important for development of strong, healthy muscles: low vitamin D is associated with muscle weakness and poor muscle function (3).  
The importance of vitamin D for healthy immune function has recently been recognised and there is mounting evidence that it plays a pivotal role (2). Vitamin D deficiency has been related to a number of common childhood conditions that involve the immune system, including allergies (4).  It is also important for a healthy, balanced inflammatory response (2), which is relevant in conditions like asthma and eczema. There is an association between lower vitamin D levels and increased severity of asthma (5) and also atopic dermatitis (eczema): one small study found that vitamin D supplementation was helpful particularly for children with winter-related eczema (6).  Insufficient vitamin is also associated with a lowered immune response to infections (4).  One study showed that vitamin D supplementation reduced the risk of winter flu in Japanese nursery school children (7).
Owing to the importance of vitamin D for children's healthy development, the Department of Health and NHS recommend that children aged 1 to 4 years old should be given a daily supplement containing 400iu (10μg) of vitamin D (8).
Health benefits of vitamin D
Helps the body absorb calcium to build strong bones and teeth

Important for muscle development

Support healthy, balanced immune function

Lower risk of eczema and severe asthma for children with sufficient vitamin D

Fewer respiratory and other infections in infants with sufficient vitamin D
References
Roberto Antonucci, Cristian Locci, Maria Grazia Clemente, Elena Chicconi and Luca Antonucci (2018) Vitamin D deficiency in childhood: old lessons and current challenges. Journal of Pediatric Endocrinology and Metabolism V31 (3) DOI:

https://doi.org/10.1515/jpem-2017-0391

  Published online:  05 Feb 2018

https://www.degruyter.com/view/journals/jpem/31/3/article-p247.xml

 

Armin Zittermann and Jan F. Gummert (2010) Nonclassical Vitamin D Actions

Nutrients

2010,

2

, 408-425; doi:10.3390/nu2040408

https://www.mdpi.com/2072-6643/2/4/408/htm

 

Girgis CM, Clifton-Bligh RJ, Hamrick MW, Holick MF, Gunton JF. The roles of vitamin D in skeletal muscle: form, function, and metabolism. Endocr Rev 2013;34:33–83.

Saggese G, Vierucci F, Boot AM, Czech-Kowalska J, Weber G, et al. Vitamin D in childhood and adolescence: an expert position statement. Eur J Pediatr 2015;174:565–76.

Dogru M, Kirmizibekmez H, Yesiltepe Mutlu RG, Aktas A, Ozturkmen S. Clinical effects of vitamin D in children with asthma. Int Arch Allergy Immunol 2014;164:319–25.

Camargo CA Jr, Ganmaa D, Sidbury R, Erdenedelger Kh, Radnaakhand N, et al. Randomized trial of vitamin D supplementation for winter-related atopic dermatitis in children. J Allergy Clin Immunol 2014;134:831–5.

Urashima, M.; Segawa, T.; Okazaki, M.; Kurihara, M.; Wada, Y.; Ida, H. Randomized trial of vitamin D supplementation to prevent seasonal influenza A in schoolchildren. Am. J. Clin. Nutr. 2010.

https://www.nhs.uk/conditions/pregnancy-and-baby/vitamins-for-children/

(Advice correct as at 16

th

June 2020)