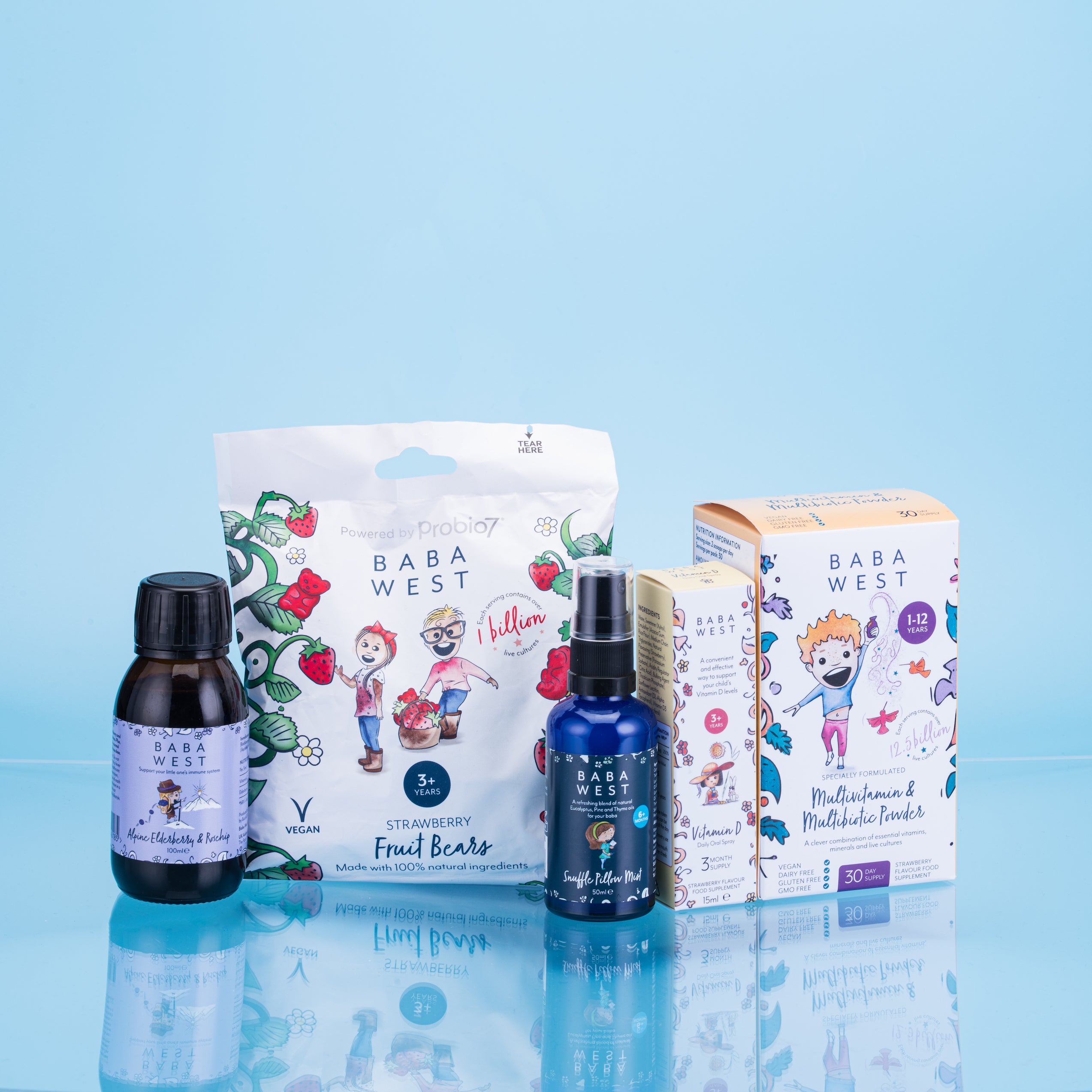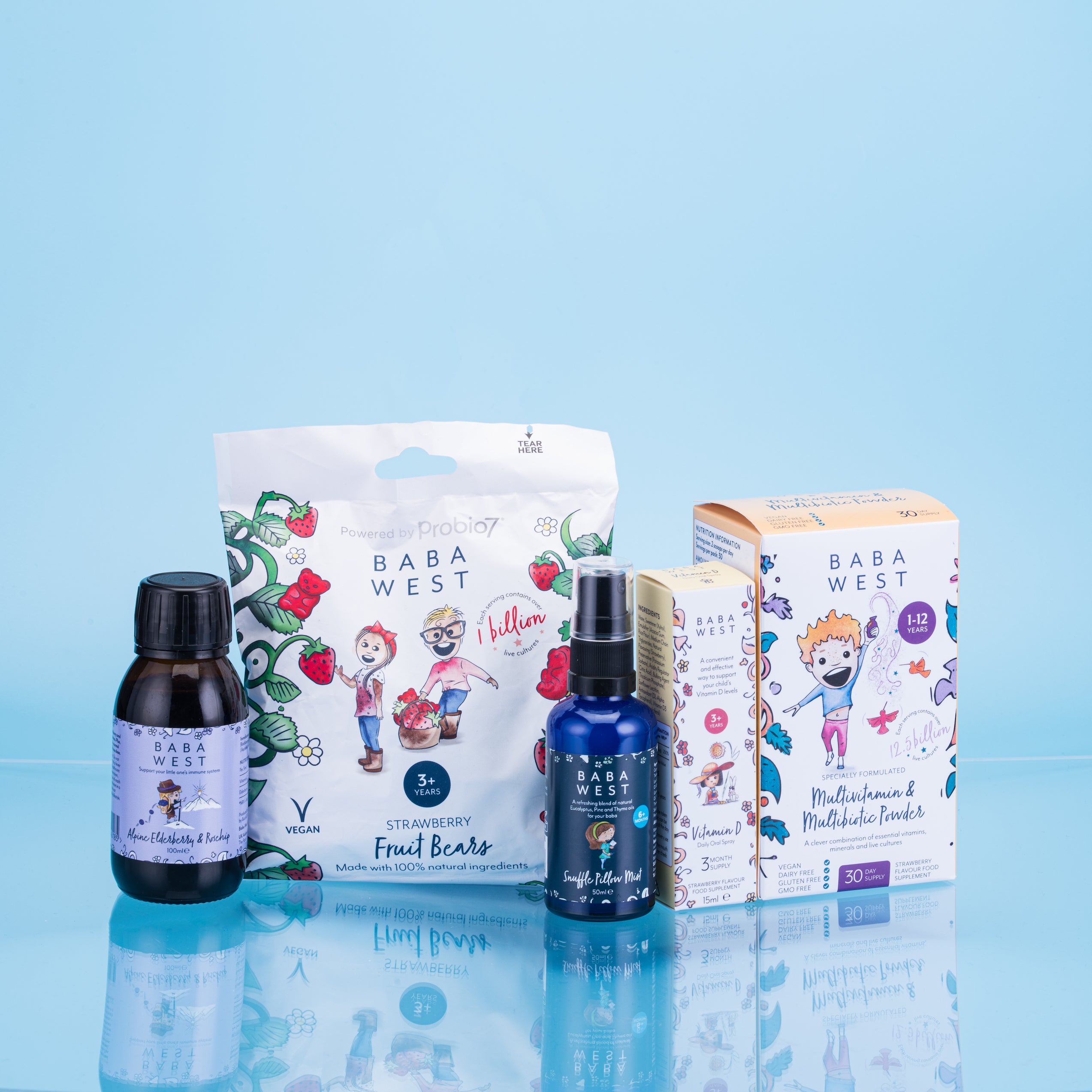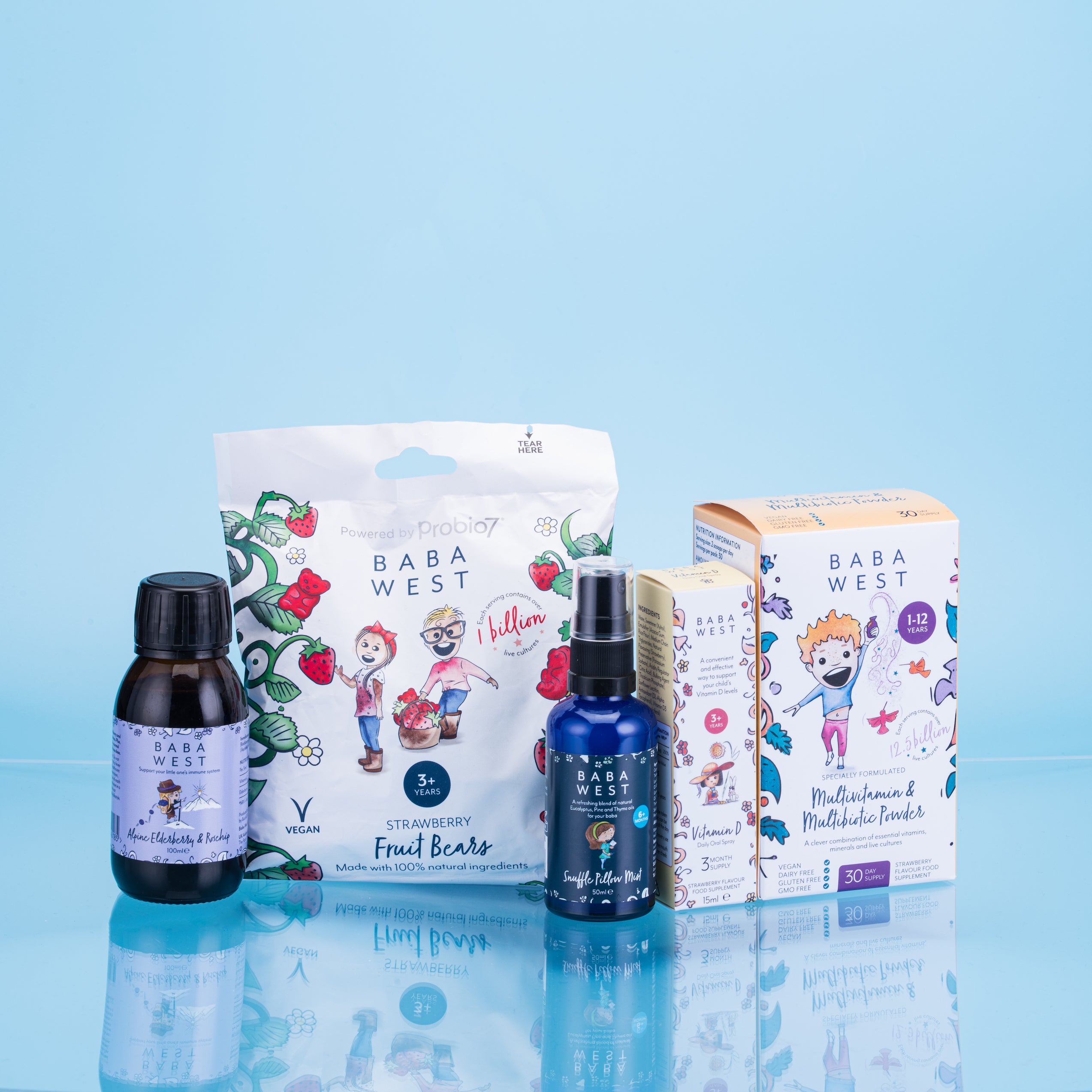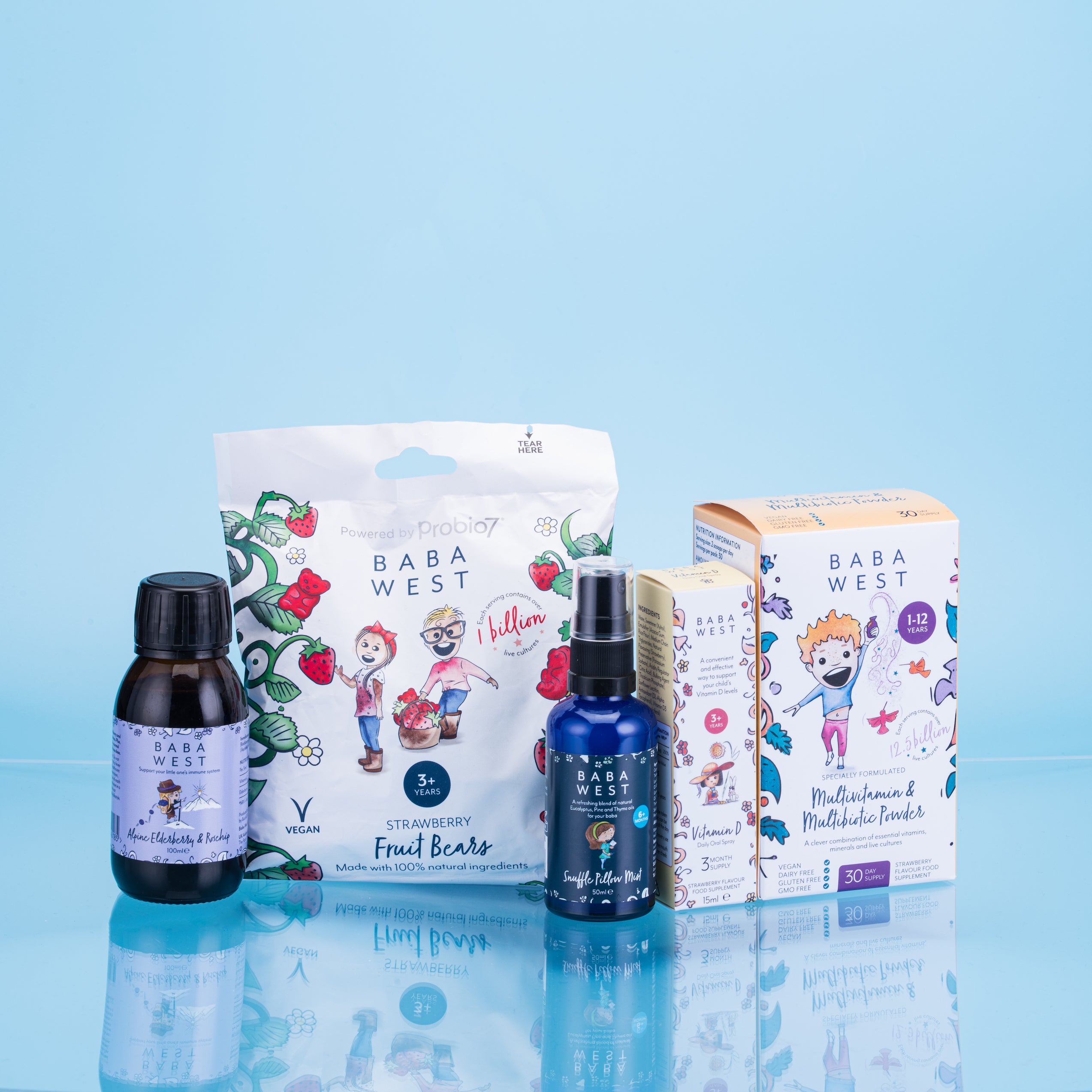 Back to School Immunity Pack
Our five-product pack boosts and supports your child's immunity so they can focus on learning new skills and making friends.

Send them off to school fighting fit and feeling ready for all the day throws at them. With Baba West's Back to School Immunity Pack, your child will have a boost of multivitamins and multibiotics to help support their immune system.

Our tasty Strawberry Fruit Bears count towards one of their five a day and support gut health. Whilst our Vitamin D Spray will keep their bone strength developing.

Are they having trouble sleeping due to sniffles? Snuffle Pillow Mist is packed with anti-viral and antibacterial properties. They'll get that much-needed rest in between their busy school days.

• For children age 3+

• Simple, convenient and easy-to-use supplements and healthy, immune supporting snacks

• No nasties – sugar-free with no artificial colours, flavourings or additives

• Plus our best-selling Snuffle Mist to help relieve congestion
Alpine Elderberry & Rosehip
Our combination of natural Alpine Elderberry, Blackberry and Rosehip is packed full of antioxidants and vitamins. Plus, with extra Vitamin C, it helps to support the normal functioning of the immune system in each delicious dose. It is our top priority to keep your little ones healthy and happy so we have developed this formula with 25% less sugar than the best selling elderberry syrup and other elderberry syrups on the market, while still maintaining a natural tasty flavour that your baba won't be able to resist.


Vitamin D Spray
Low levels of vitamin D are wide-spread and this is recognised as a significant health problem due to its importance in many aspects of health. Baba West's Vitamin D Spray is a simple, convenient and easy-to-use natural strawberry flavoured spray, with one spray providing 400iu (10μg) of vitamin D – the recommended daily dose to help support the development of your child's bones, teeth, muscles and healthy immune function.


Multivitamin & Multibiotic Powder
A clever combination of important vitamins, minerals and friendly microflora specifically formulated for children aged 12 months to 12 years. Take once a day, mixed with water, milk or juice or sprinkled onto yogurt or cereal. With busy schedules, fussy eaters and processed foods, children often do not meet all of their recommended daily value of nutrients. However, any supplement is only as good as a child's willingness to take it and parents know that children can be finicky about the taste no matter how nutritious. This is why our multibiotic formula comes in a delicious powder form and contains a mix of vitamins, minerals and probiotics, with a natural berry flavour.


Strawberry Fruit Bears
Our delicious Bears are made using the whole fruit which count towards one of your child's 5-a-day, and with no added sugar or artificial colours. What's more, our Bears contain a well-researched friendly bacteria, BC30TM to support your child's gut and immune system, with each serving delivering over 1 billion friendly bacteria to their gut. Baba West Fruit Bears are not only a source of vitamin C to help keep your child's immune system in top condition but they are also a source of prebiotic fibre, high in fibre and a source of friendly bacteria to keep their gut happy and healthy.


Snuffle Pillow Mist
No baba is happy when they are all bunged up. This natural solution is a gentle yet effective mix of essential oils with anti-viral and antibacterial properties to help relieve blocked and runny noses. Enriched with Eucalyptus, Pine and Thyme oils for your baba.