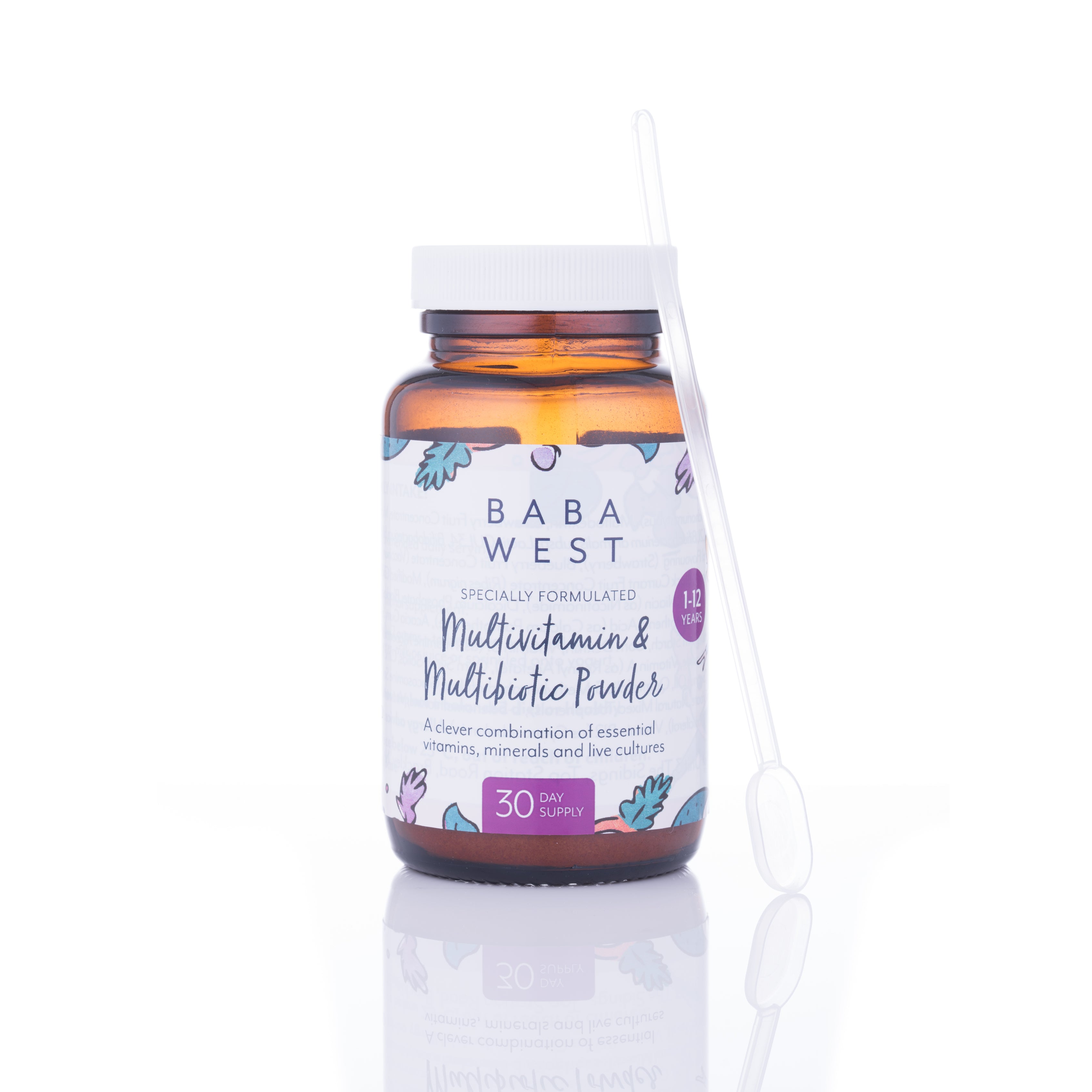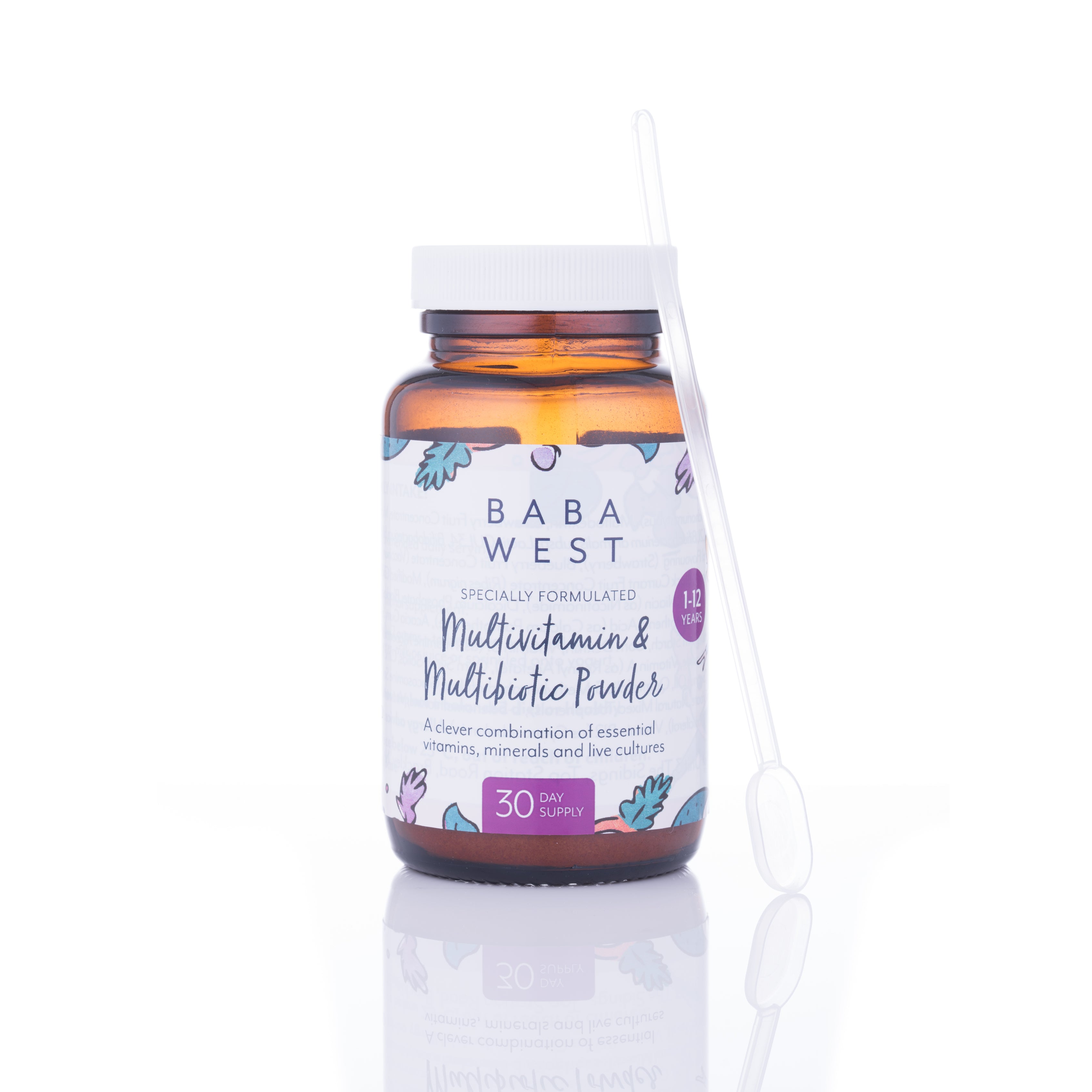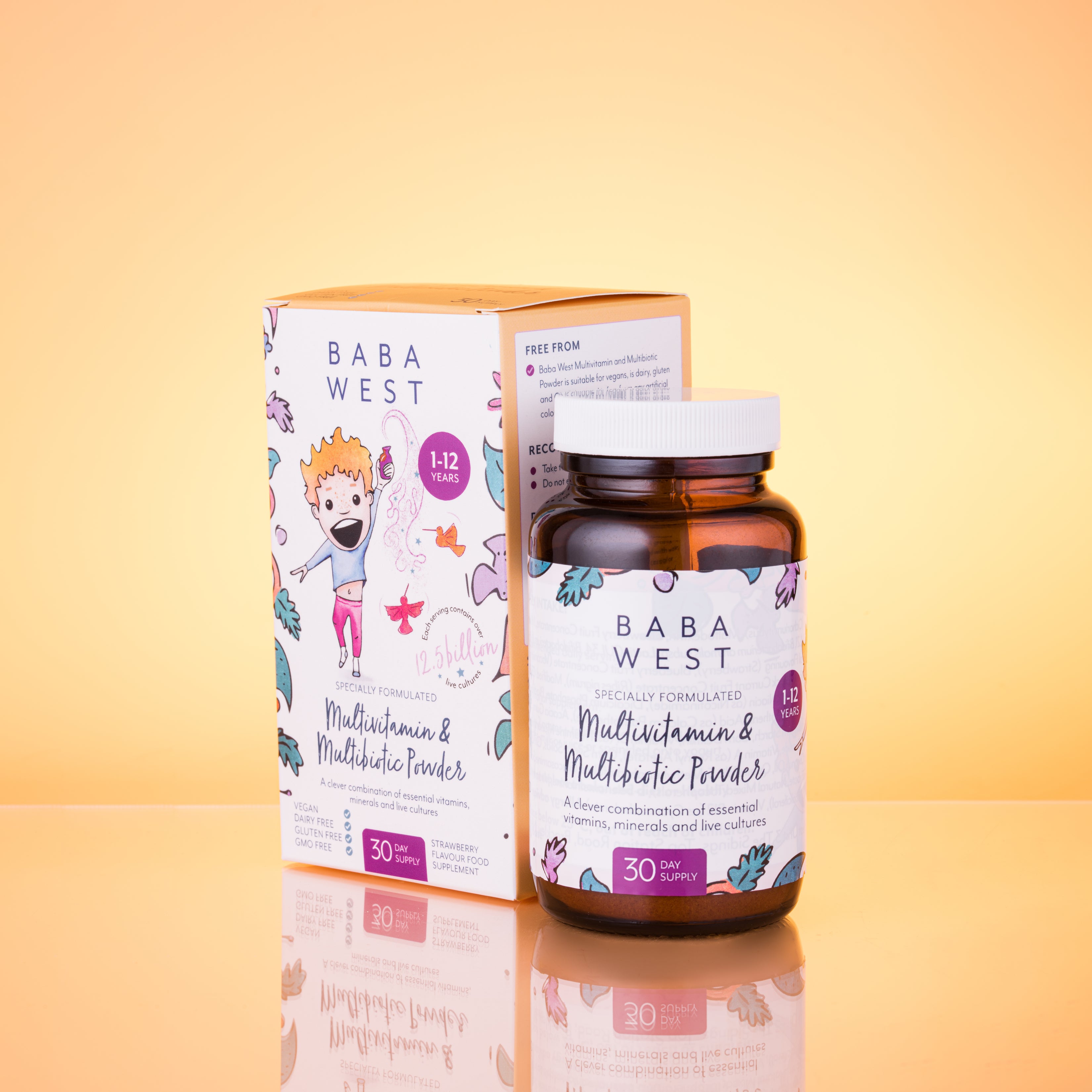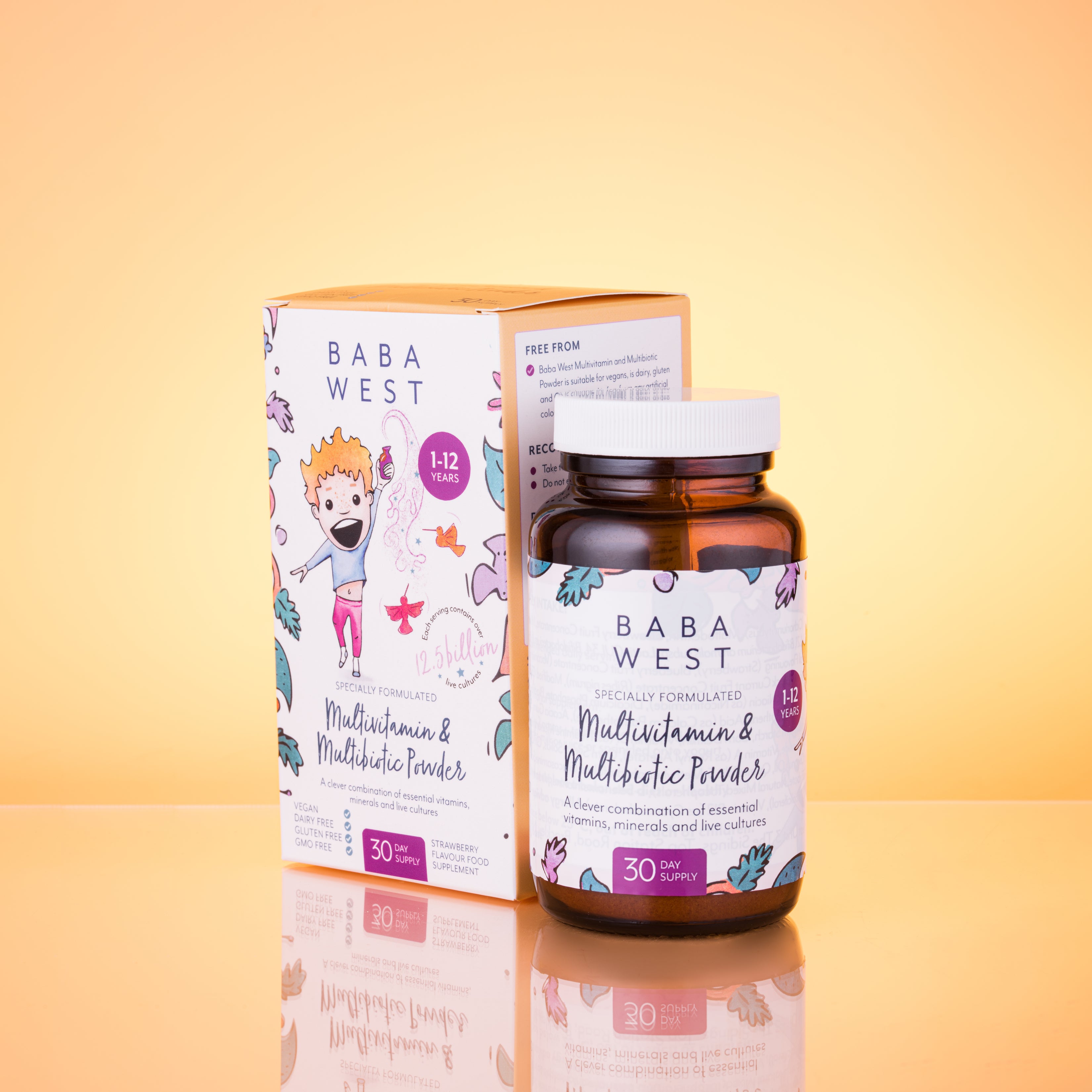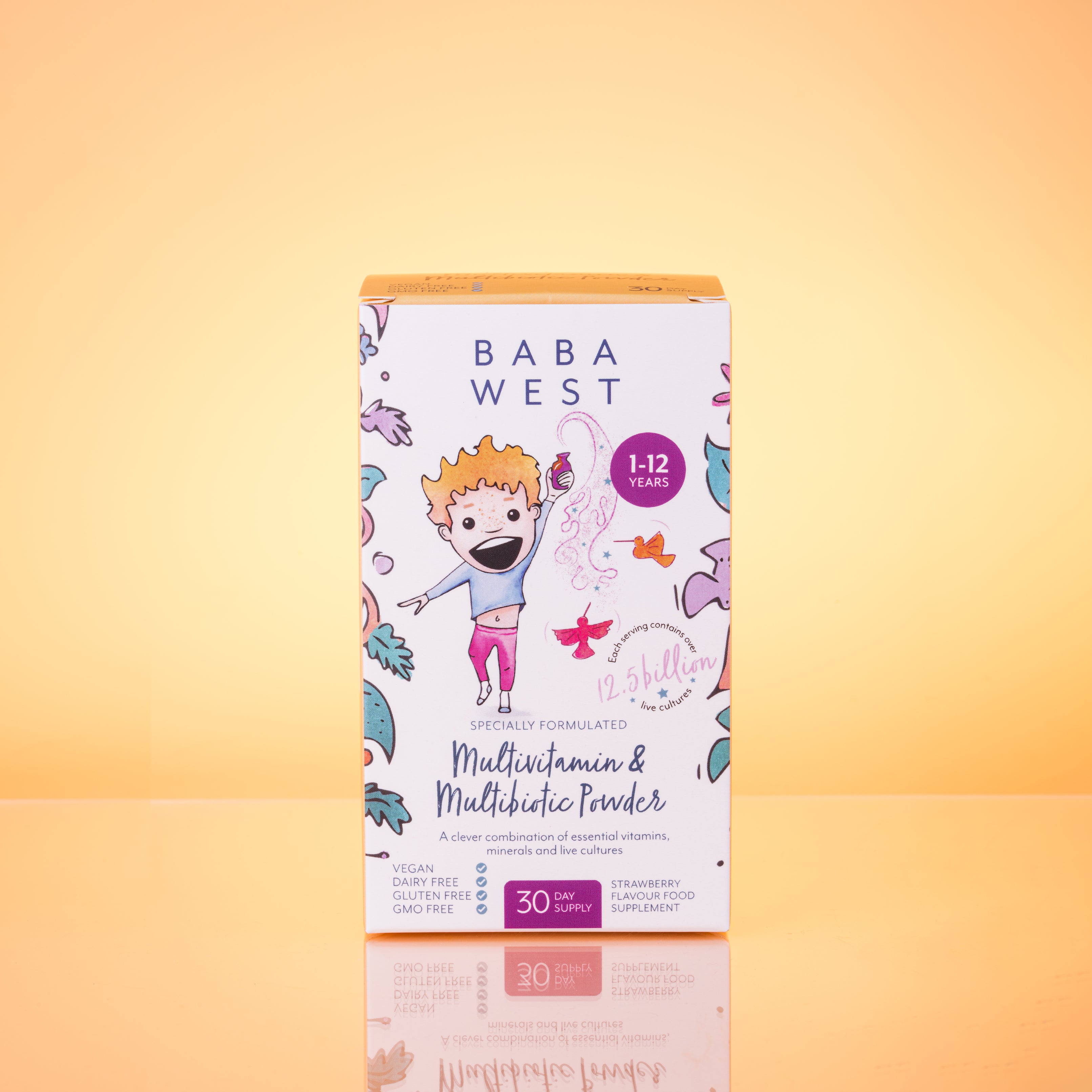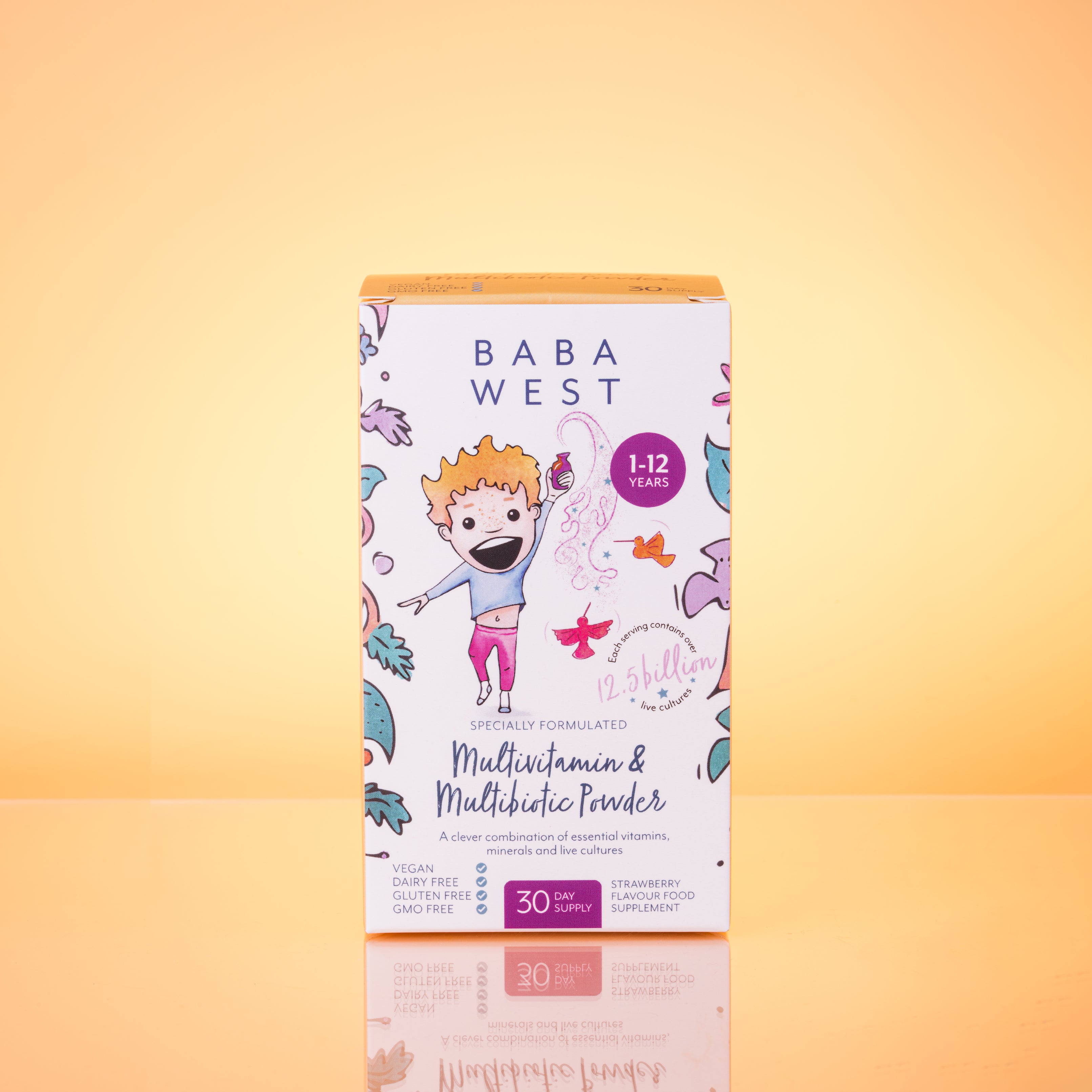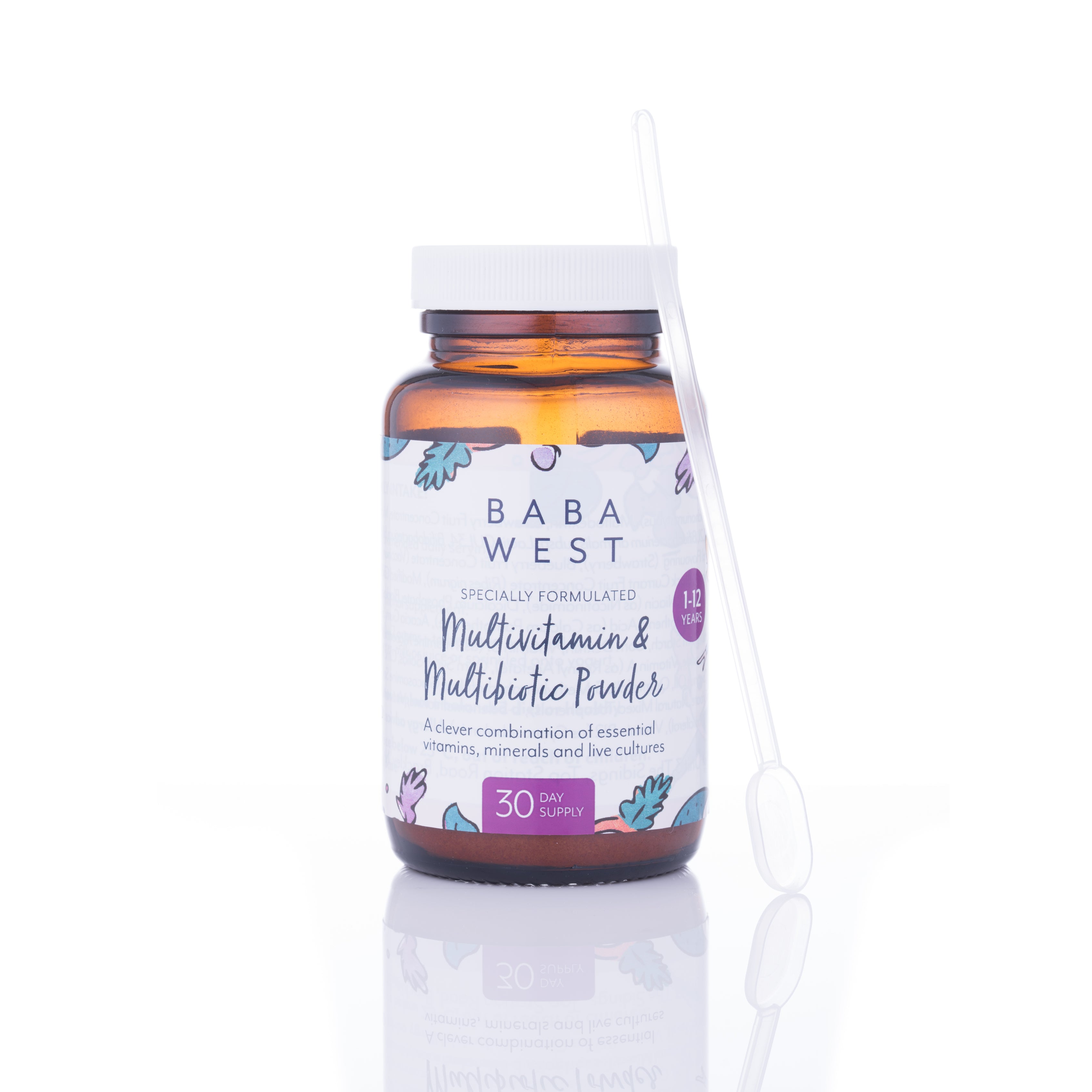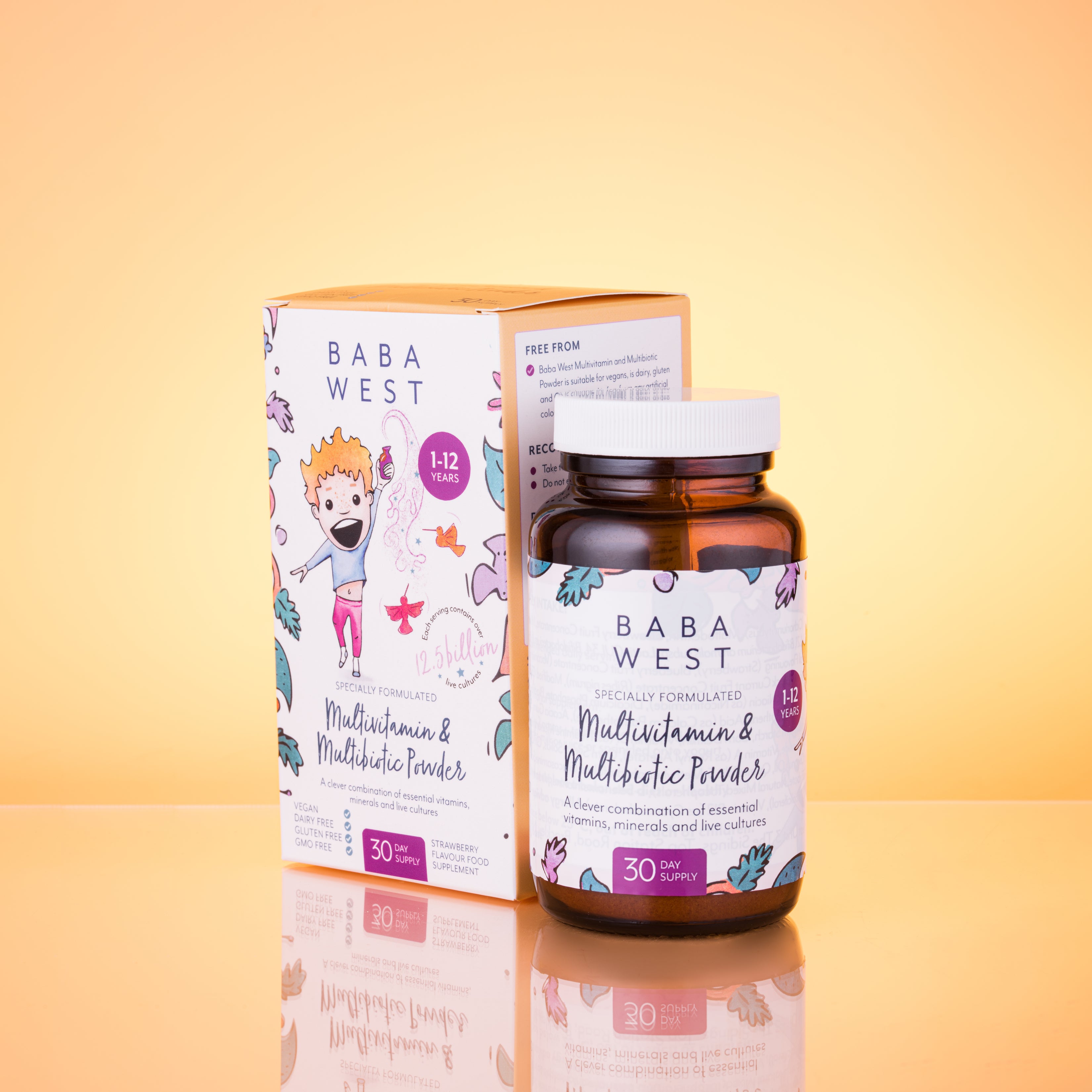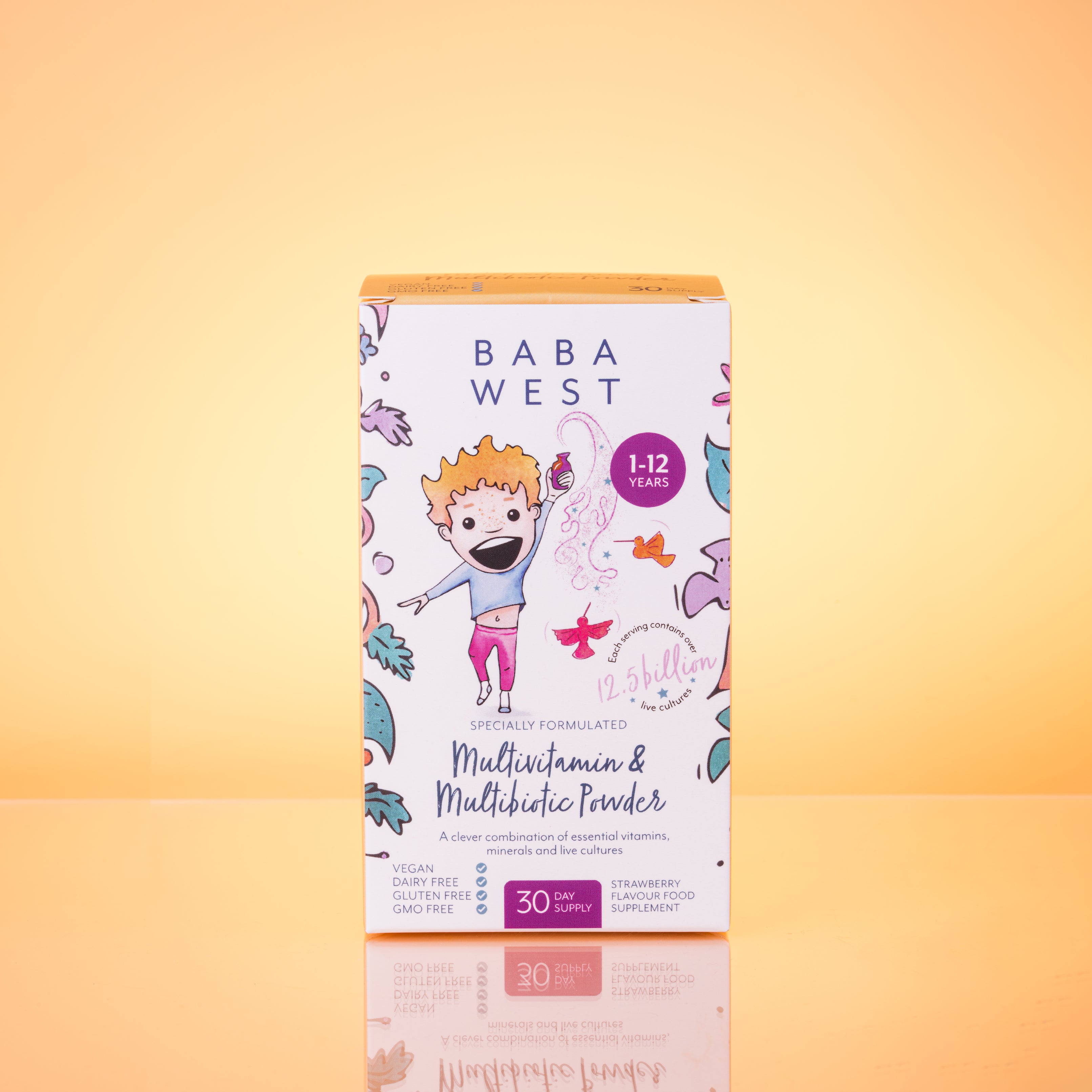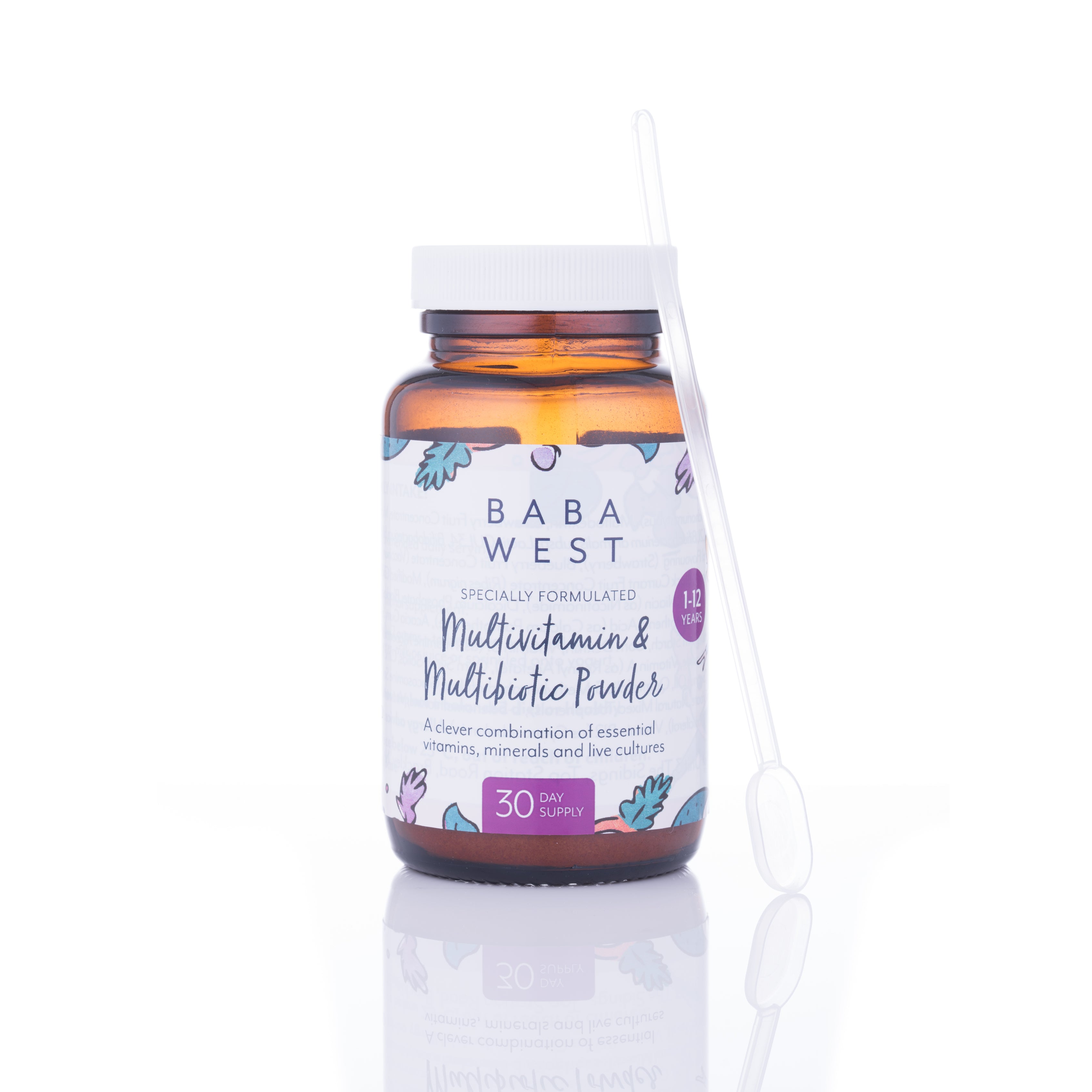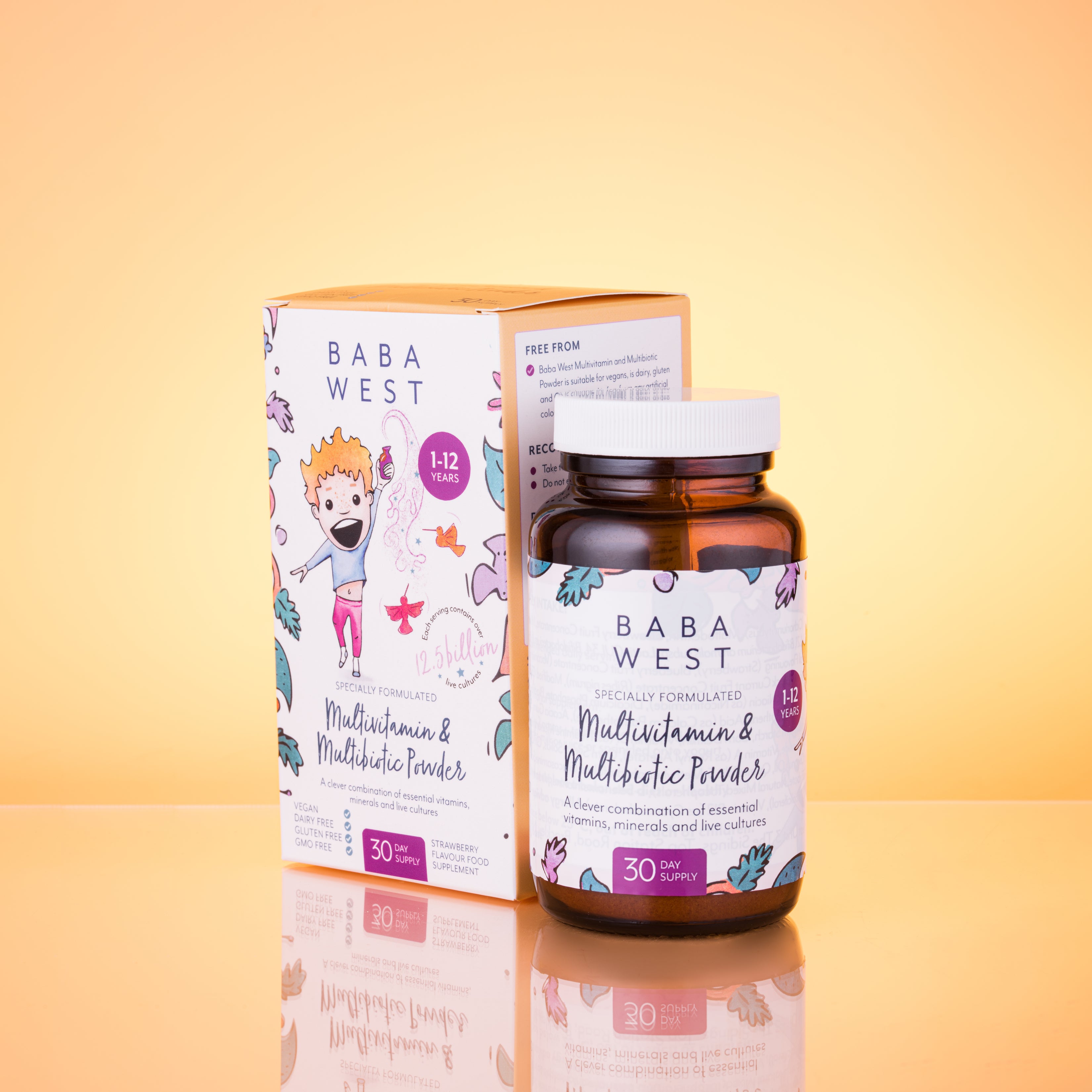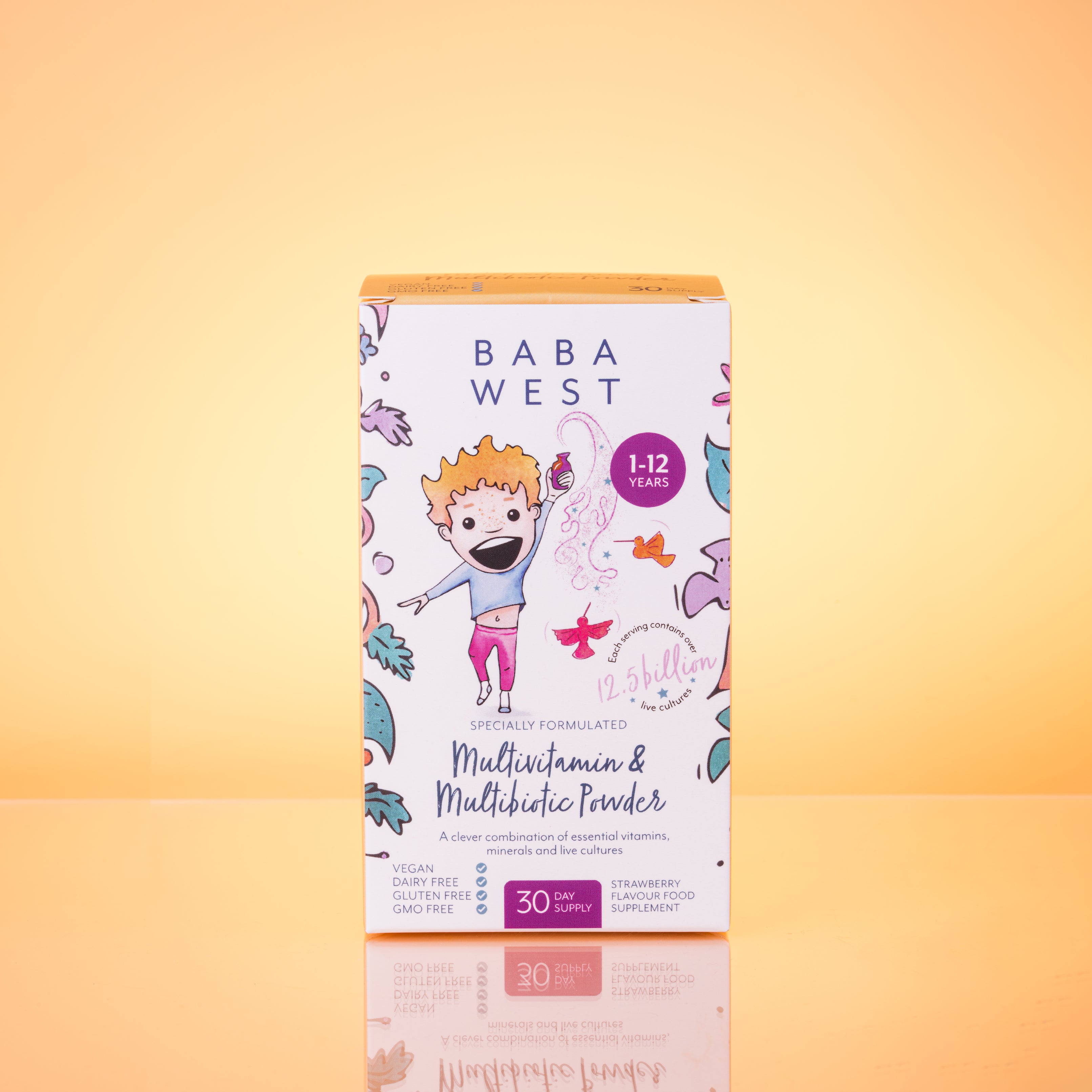 Children's Multivitamin & Multibiotic Powder 1-12 years
Baba West's Children's Multivitamin and Multibiotic Powder for children aged 1-12 years - the perfect way to support your child's overall health and immune system.

Packed with essential vitamins and beneficial friendly bacteria in a convenient powder form, you can rest assured that your child is getting all the nutrients they need. Simply sprinkle onto your child's favourite foods or drinks, and watch them enjoy a healthy boost.

Baba's powder is totally suitable for vegans and is gluten-free and dairy-free which means no unexpected upset tummies, just healthier guts and immune systems.

With Baba West, taking care of your child's health has never been so simple and stress-free. Baba West's Children's Multivitamin and Multibiotic is in a delicious powder form and contains a mix of vitamins, minerals and friendly bacteria, with a natural berry flavour. Sprinkle it on whatever food or drink you like and watch them enjoy.

• 1 month supply

• 12.5 billion friendly bacteria per serving

• 13 essential vitamins per serving

• Provides digestive and immune support



• Natural and safe bacterial strains

• Easy-to-use powder formulation

• Suitable for vegans, gluten-free and dairy-free diets

• No need to refrigerate
Baba West Children's Multivitamin & Multibiotic is suitable for:

• Children from 12 months to 12 years

• Vegan diet

• Gluten-free diet

• Dairy-free diet



Why give your baby Baba West Multibiotics?
This formulation contains 100% or more of the recommended NRV (Nutritional Reference Value) of 13 essential vitamins along with a high level (12.5 billion) of Lactobacillus and Bifidobacterium based friendly microflora. Along with Vitamin D, which is also needed for the normal development of children's bones and teeth, it also contains Vitamins B6 and B12 to help with their normal cognitive development and Vitamins C and A plus Zinc and Selenium to help support their immune system. There's a clever combination of other B vitamins too, including B1 and B2 to help with the release of energy from foods.

B Vitamins – help with the release of energy from foods

Biotin – important for the maintenance of cellular energy and the normal function of the nervous system

Vitamin A – plays a central role in a healthy immune system as well as contributing to normal vision and the normal metabolism of Iron

Vitamin C – an important antioxidant which assists in protecting the body from oxidative damage

Vitamin D – needed for the development of children's bones and teeth. Critical too for normal cell division and the proper absorption and utilisation of Calcium and Phosphorus in the diet

Vitamin E – another important antioxidant

Folate – another helpful B vitamin

Selenium – critical for the normal functioning of the immune and thyroid systems

Baba West Multivitamin and Multibiotic Powder is suitable for vegans, is dairy, gluten and GMO free and is free from any artificial colours or preservatives.
Dose


2 scoops (scoop provided) per day



Instructions


• Can be mixed with water, milk or juice and alongside food, or sprinkle onto yogurt or cereal. If adding to warmed milk or cereal, add just before feeding to ensure it isn't too hot for the bacteria.





How to store


No need to refrigerate. Store in a cool, dry place below 25c. Keep out of the reach of children. Use before expiry date (see pack).
2 scoops per day (provided) typically provide: NRV%
Vitamin A 800ug RE
100
Vitamin D3 10ug 200
Vitamin E 12mg TE 100
Vitamin K 75ug 100
Vitamin C 80mg 100
Thiamin (Vitamin B1) 1.1mg 100
Riboflavin (Vitamin B2) 1.4mg 100
Niacin (Vitamin B3) 16mg NE 100
Vitamin B6 1.4mg
100
Folate (as 5-MTHF) 200ug 200
Vitamin B12 2.5ug 100
Biotin 50ug 100
Pantothenic Acid 6mg 100
Zinc 2.5mg 25
Selenium 55ug 100
Strawberry Powder 400mg
Blackberry Powder 50mg

Blackcurrent Powder 50mg
Bilberry Powder 50mg
Lactobacillus acidophilus (CUL-60)

Lactobacillus acidophilus (CUL-21)
Bifidobacterium bifidum (CUL-20)
Bifidobacterium animalis subsp. lactis (CUL-34)

Fructo-oligosaccharides 1000mg




• Free from sugar, dairy, gluten, GMO, artificial colours, flavours, preservatives. No allergens



Warnings


Do not exceed the recommended dose. Food supplements should not be used as a substitute for a healthy diet and lifestyle. Always tell your doctor in advance if you plan to give your child any supplements.

Fructo-oligosaccharides (Cichorium itybus), Maltodextrin, Strawberry Fruit Concentrate, Micro-organisms (Loctobacillus acidapholus CUL60 & CUL61, Bifidobacterium animalis subsp. lactis CUL34, Bifidobacterium bifidum CUL20), Vitamin C (as Ascorbic Acid), Natural Flavouring (Strawberry), Blueberry Fruit Concentrate( Vaccinium sp.), Elderberry Fruit Concentrate (Sambucus nigra), Black Currant Fruit Concentrate (Ribes nigrum), Modified Corn Starch, Vitamin E (as DL-Alpha Tocopheryl Acetate), Niacin (as Nicotinamide), Dicalcium Phosphate, Blackberry Fruit Concentrate(Rubus fruticosus),Zinc Citrate, Pantothenic Acid (as Calcium Pantothenate), Acacia Gum, Sucrose, Vitamin B6 (as Pyridaxal 5-Phosphate), Corn Starch, Corn Dextrin, Vitamin B1 (as Thiamine Mononitrate), Riboflavin, Anti-caking agent: Silicon Dioxide, Vitamin A (as Retinyl Acetate), Corn Syrup Solids, Citric Acid, Microcrystalline Cellulose, Fractionated Coconut Oil, Quatrefolic 5-Methyltetrahydrofolate Glucosamine Salt, Antioxidants: DL-Alpha Tocopherol, Sodium Ascorbate, Natural Mixed Tocopherols), L-Selenomethionine, Vitamin K1 (as Phylloquinone), Biotin, Vitamin D (as Cholecalciferol), Vitamin B12 (as Cyanocobalamin)