Clodagh McKenna's Linguine Puttanesca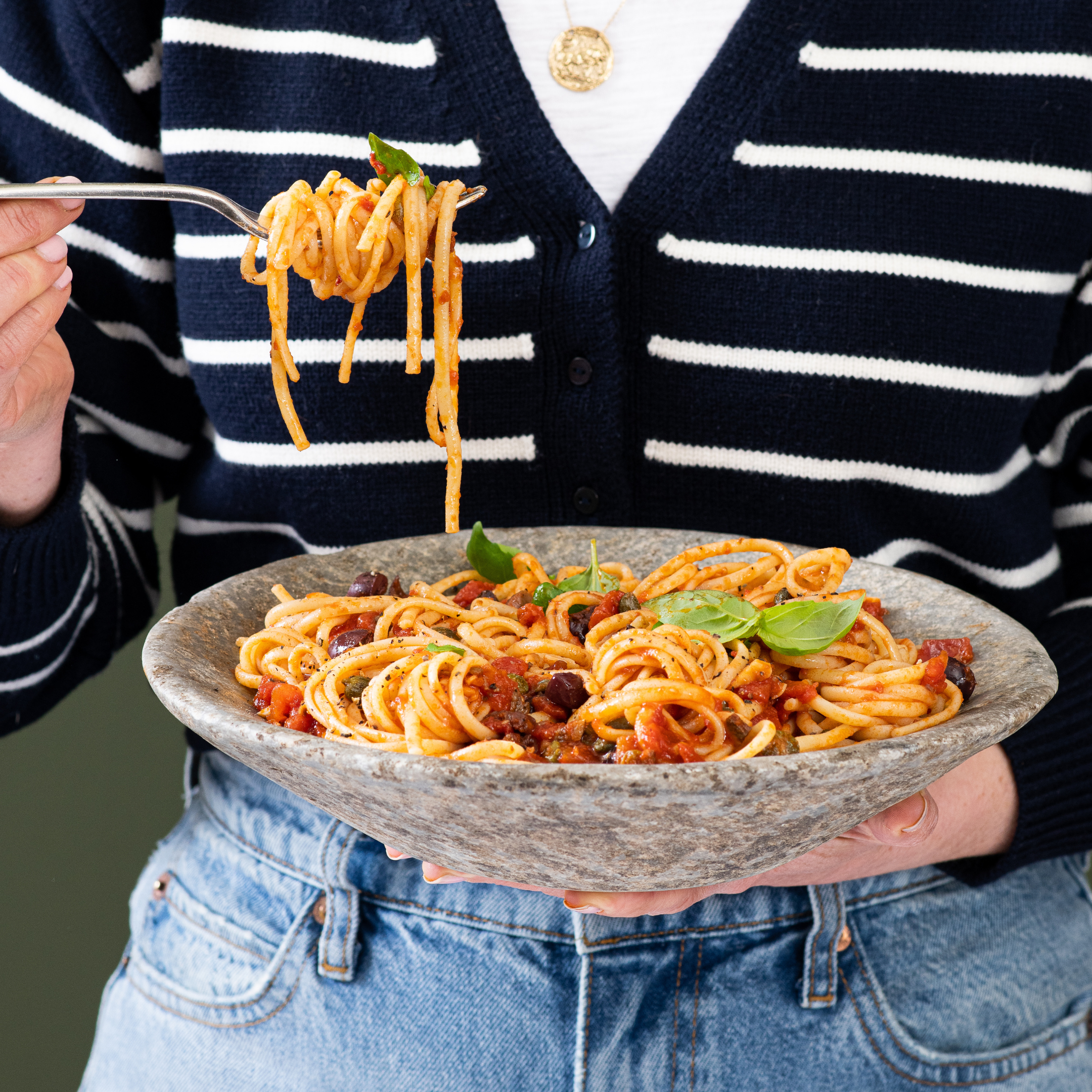 Chef and TV presenter Clodagh McKenna is the author of 8 cookbooks, including most recently In Minutes and Clodagh's Weeknight Kitchen. Her latest book In Minutes is a Number 1 best-seller in both the UK and Ireland. 
She is a much-loved resident chef on ITV's This Morning and one of the chefs on ITV's Cooking with the Stars.
This delicious, comforting dish features in Clodagh's amazing new Recipe Book – In Minutes – a brand-new title inspired by how much time you have in your busy life. The book is perfect for parents with limited time and is packed with flavourful, speedy recipes that you can cook from start to finish in 10, 20 or 30 minutes.
This dish has appeared on this morning and is perfect for a for a healthy mid-week supper.  
Ingredients:
200g linguine
2 tbsp olive oil
200g tinned tomatoes
2 garlic cloves, crushed
4 anchovy fillets,chopped
1 tsp dried chilli flakes
1 tbsp capers, rinsed
12 black olives, stones removed and chopped
handful basil leaves
sea salt and freshly ground black pepper
Serves two
Method:
1. Cook the linguine in a large pot of salted water for ten minutes or until the pasta is cooked. Drain once the pasta is cooked and reserve ½ cup pasta water.
2. While the pasta is cooking place a frying pan over a medium heat, and add the olive oil. Stir in the tomatoes and a pinch of sea salt and cook over a high heat for 2–3 minutes, stirring often. Stir in the crushed garlic, anchovies, and dried chilli flakes. Reduce the heat to low and cook for 3 minutes.
3. Stir in the capers and olives and cook for another minute. Add the cooked linguine to the sauce and stir well.
4. Divide the pasta puttanesca between two warmed bowls and tear over the basil leaves before serving
To find out more about Clodagh McKenna and her new book In Minutes, visit: https://www.clodaghmckenna.com/shop-all/in-minutes-signed-copy or follow Clodagh on Instagram: https://www.instagram.com/clodagh_mckenna/