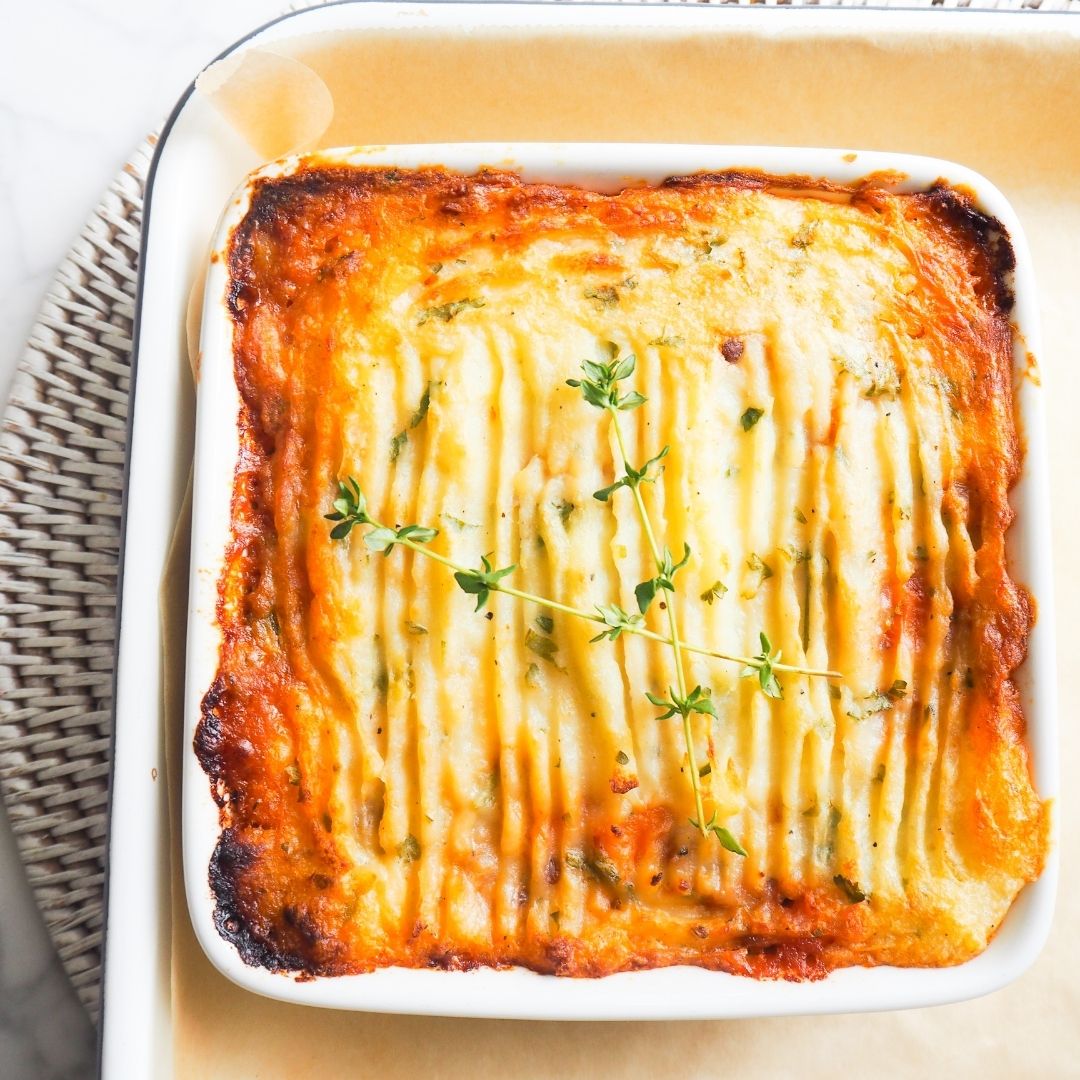 Miriam is the founder of Mimi's Bowl. She cooks modern baby and toddler recipes from her home in West London. She is mum to her little girl and son, now 7 and 3 years old. Miriam blogs and posts daily about what they eat at home. She shares her honest experiences of cooking for her family, offering parent cooking hacks and recipes. Her mission is to end the anxiety about answering what's for dinner tonight, with easy and healthy family recipes.  
"This is really my comfort food of choice as it takes me straight back to my childhood. Like all good family food, it can be batch cooked, prepped ahead and enjoyed several times over. In this version I add lentils to pack in more nutrition and make the beef mince go further. Not forgetting a dash of Worcestershire sauce, for added flavour. To the mash some grain mustard and parsley, which takes this dish to the next level. I hope your family will love this as much as mine do."
Ingredients for Filling:
1 tablespoons olive oil
1 large onion, peeled and diced
2 carrots, washed, trimmed, peeled and diced
2 celery stalks, trimmed, peeled (I always peel celery to remove the stringy outer layer) and diced
2 garlic cloves, peeled and crushed
250g lean mince beef (5% fat), organic ~ buy the best quality you can get, I look for grass fed
1 tablespoon tomato puree
200g tinned organic plum tomatoes (1/2 can)
200g tin of organic brown lentils, drained and rinsed well (1/2 can)
1/2 tablespoon Worcestershire sauce
100ml cold water
Ingredients for the Mash:
500g white potatoes
(I use maris piper potatoes for mashing), peel and cut into large chunks
25g unsalted butter
50ml organic milk, approx.
1 tablespoon grain mustard
1 tablespoon parsley, chopped
black pepper, to season
 Serves a family of four
Method:
Start by making the filling: take a large ceramic pot and add the oil, onion, carrot and celery. Gently sauté until softened, for 10 minutes approx., you want the vegetables to soften but not brown. Add the crushed garlic clove and cook for 2 minutes. Next add the mince, breaking it up with a spoon or spatula as you stir. You want the mince to colour but not brown, to avoid toughening the meat. Once the mince is cooked all over add the tomato puree, plum tomatoes, cooked lentils, Worcestershire sauce and water. Bring it up to a gentle boil and then lower heat to a simmer for 30 mins. Stirring occasionally. The sauce should reduce, thicken and intensify in flavour. Set aside to cool.
Next to make the mash: place the potatoes in a large pan of cold water and bring up to the boil. Cook the potatoes until they are cooked and can be pierced through with a knife. Drain and leave the potatoes in a sieve to steam a little, to help them dry out.
Warm the milk and butter together in a small pot and set aside. Next, press the cooked potatoes through a potato ricer, before mashing. If you don't have one just mash straight away. Adding the butter and milk as you go, to loosen the potato and create a creamy mash.  Once you are happy with the consistency add the mustard, parsley and black pepper, to season. Combine well and set aside.
Now you are ready to assemble the Cottage Pie(s). Take an oven proof dish, if you are batch cooking for several meals, I always recommend using several different sized dishes. It gives you a better range of meal options from one cook. Fill the dish/ dishes with a layer of the beef and tomato ragu. Then top with a layer of the mashed potato. Smooth over the potato. I like to score the mash with a fork, as the ridges will brown in the oven and crisp.
Next:
Cool, chill and cover, to place in the fridge and cook later
Or, cool completely, cover and label. Then freeze, to cook on another day (3 months approx.)
Or, cook immediately in a preheated oven at 180C (fan oven). Cook for 20-25 minutes until the mash is nicely browned, the pies are bubbling and piping hot all the way through. Cool and serve with some peas.