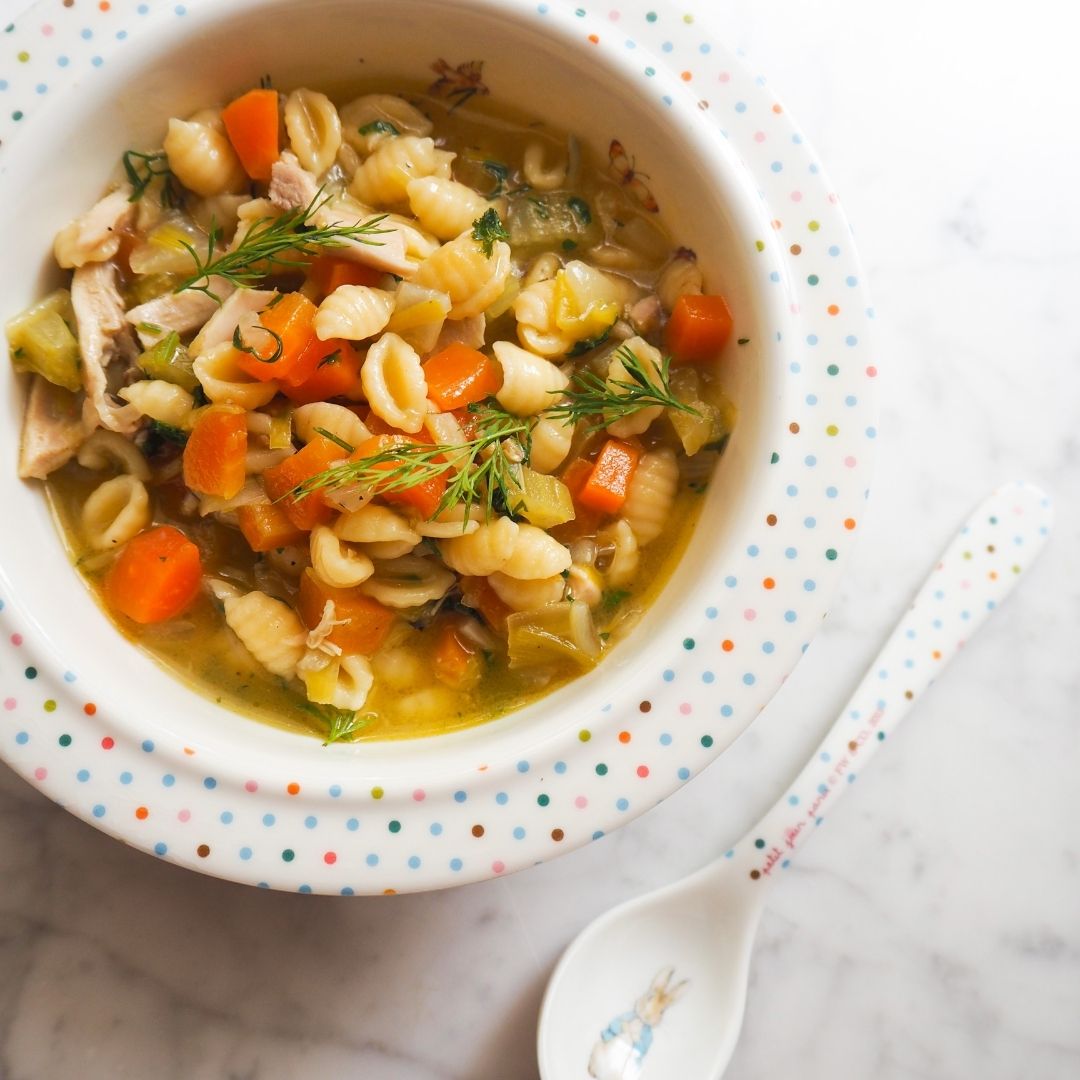 Miriam is the founder of Mimi's Bowl. She cooks modern baby and toddler recipes from her home in West London. She is mum to her 6 year old little girl and 2 year old baby boy. Miriam blogs and posts daily about what they eat at home. She shares her honest experiences of cooking at home for her family; whilst offering parent cooking hacks and recipes. Her mission is to end "babyfood panic", an anxiety about how to feed your baby and what to feed your baby.
"This is a really special recipe that reminds me of my experiences cooking as a mother. Both my daughter and son love this soup, which brings me such joy. I have made versions of this, for them both, since their journey with food began. The base of this soup is a beautiful homemade chicken stock; you just cannot replicate the flavour with a shop bought stock. The stock has to be the star of the dish.
If you haven't made stock before, don't be intimidated, I will walk you through how to make your own. But, make the stock ahead of time, on a quiet morning/ afternoon at home. Then, either freeze it, or store it in an air-tight container in the fridge, for 4-5 days. You will then by ready to make this delicious and nourishing soup easily." 
Ingredients for Chicken Stock:
x1 whole organic chicken, jointed into 8 pieces with skin removed
3-4 litres cold water
x4 large carrots
x1 large onion
4 sticks of celery
3 small parsnips
2 leeks
1 sweet potato
25g (small bunch) fresh parsley
6 peppercorns
1 bay leaf
Method for Chicken Stock:
Prep all the vegetables: wash, peel and cut into large chunks (use organic where possible). In a large cooking pot, place all the vegetables, herbs, peppercorns and jointed chicken pieces. Then cover with cold water. Place on the stove, on a high heat and bring up to a boil. Once boiling, skim off any foam that rises to the surface and discard, trying not to remove too much of the cooking water. The stock is now ready for the oven.
Cover with a tight fitting lid, then cover with an extra layer of foil, you want to lock in all of the stock, and not loose liquid during the cooking process. Place in the preheated oven, for around 2 - 2.5 hours. I always check after 1 hour 30mins, if you need to add more water you can. Also if you would like to remove any cooked chicken meat to eat you can do so now, otherwise it over cooks. Then return the stock to the oven, for the rest of the cooking time.
 By the end of 2 hours, the stock should be a lovely golden colour and the chicken and vegetables should be completely cooked and falling apart. You can cook it for a further 30 mins if you prefer the stock to be more concentrated. Take the stock off the heat and immediately strain the liquid stock into a large bowl, you can now discard the carcass and vegetables. You are left with a clear golden stock. (Do not leave the stock unstrained and sitting on the side; this is not good cooking hygiene).
Once cooled refrigerate the stock overnight. A layer of fat will have developed on the surface of the stock, skim off this fat with a large spoon and discard; much easier done once refrigerated. Your stock is now ready to use. It can also be frozen in ice cube trays, which are really useful to add to your day-to-day's cooking. 
Recipe link: https://www.mimisbowl.com/baby-and-toddler-food-recipes/2017/3/20/homemade-chicken-vegetable-stock
Ingredients for Soup:
2 tablespoons olive oil
2 white onions, peeled and diced
3 medium carrots, trimmed, peeled and diced
4 celery stalks, trimmed, peeled and diced
1 medium leek, trimmed and diced
700ml-800ml homemade chicken stock
150g - 200g baby pasta shapes
1 organic chicken breast, cooked and shredded
1 tablespoon fresh dill, chopped
1 tablespoon fresh parsley, chopped
Method for Soup:
Take a large pot and sauté the onion, carrot, celery and leeks in a little olive oil until soft. Do this slowly, they should be cooked and translucent, you don't want to add colour here. You can add a splash of water if needed.
Next, add the homemade chicken stock and bring up to a boil. Once the stock is piping hot add the pasta shapes to cook in the stock and vegetables. The pasta will absorb all the wonderful flavours and also help thicken the soup. Once the pasta is just cooked add the shredded roast chicken, finely chopped herbs and black pepper. For adults and bigger kids only, I season with sea salt* to taste (*not suitable for babies under 1 years).
You are now ready to serve. For smaller children I serve soup just warm in a mug with handles and with a spoon to scoop up all the delicious pasta, chicken and vegetables.
Links:
Instagram           @mimisbowl
You Tube            MimisBowl
Facebook            @mimisbowl      
Website               https://www.mimisbowl.com/